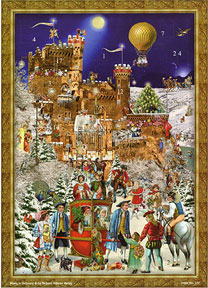 Children normally get excited in December as Christmas approaches and celebrating advent is a way to use that excitement to build lasting family memories. Traditionally, the advent calendar was a paper-board design depicting a house or village with "windows" that opened to reveal a Christmas image, poem or scripture inside. There are 24 (or sometimes 25) numbered windows, one for each day before Christmas in December. In the morning, the window with the number matching the date is opened. Of course as Christmas approaches, there are fewer and fewer windows left. These vintage advent calendars are still produced and used many places in the world.
But a vintage advent calendar is difficult to reuse more than one year. For one, the windows don't stay shut the second time around and everyone remembers what is behind the windows. After World War II, different calendar designs became available as the tradition spread from Germany to the USA and elsewhere. Today, it is common to have a reusable calendar with pockets or slots for each day of advent. And instead of a fixed image or poem in the pocket, parents can choose from many different ways to fill them. This allows you to use your own creativity to tell the advent story or start your own advent tradition.
We have four German advent calendars from Kathe Kruse that you can use (and reuse) for your own family tradition. All of them have pockets to hold your advent gifts. Try these ideas for filling the pockets this year:
Print photos with messages that tell your child's "life" story. They'll enjoy remembering special events and growth milestones!
Use small non-perishable snacks that your child can use to take to school or for an afternoon treat.
Write sentences that when assembled tell a story, maybe about a grand parent or other family member. For older children, have the story be a series of clues and allow time for guessing the answer!
Tell the story of the nativity through images, poems or scripture.
Fill the pockets with consumable gifts that don't hang around and add clutter to your house. Things like trial lotions and soaps or school supplies like erasors and pencils.
Or, mix and match these ideas and your own!
When filling a calendar for more than one child, arrange the gifts for taking turns or place more than one gift in each pocket.
Now all you have to do is start, and there are only 18 days till advent so don't delay! Begin your own family tradition that brings wonder and excitement to your home this time every year.