The 70th Nuremberg Spielwarenmesse (Nuremberg Toy Fair) was held from Wednesday January 30th to Sunday February 3rd. The largest exhibition of toys in the world takes days to cover, not hours. And, this 70th anniversary year includes special receptions and events.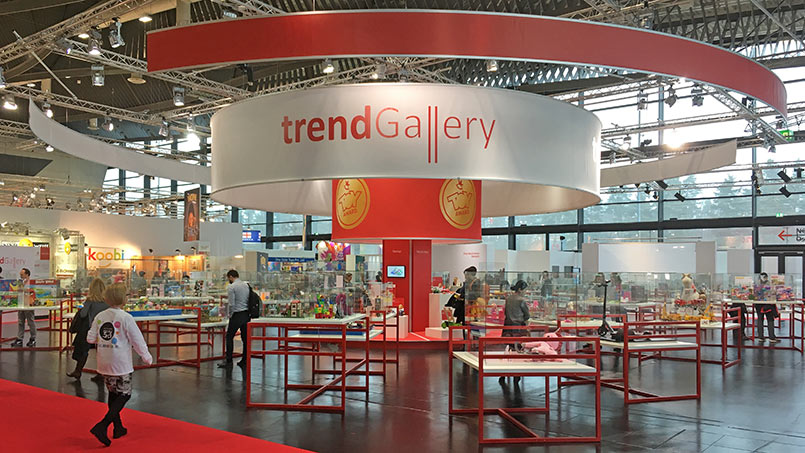 We take Amtrak from Lancaster to Philadelphia, SEPTA to the airport, fly to Frankfurt, and take the Deutsche Bahn train from Frankfurt to Nuremberg. All this takes just 15 and a half hours and generally makes for a pleasant journey. (Just remember that in the Frankfurt airport, if you have no checked luggage, follow signs for connecting flights, NOT ground transportation or train station or baggage claim. This saves you a great deal of walking, gets you into the EU faster, and to the fernbahnhof faster.)
Finding your way around and navigating your way at the Spielwarenmesse can be a daunting task. And to make matters worse, some things just don't exist – like drinking fountains for instance. Be sure to bring your own water bottle. Another scarcity, a place to sit for several minutes while you; eat a snack (again, bring your own,) determine your next route (use the app,) or eat your lunch (find a grocery the night before and get rolls, cheese, smoked meat sticks, a pack of carrots, and chocolate.) Sometimes a window sill, steps, or even the floor has to suffice.
The Messe is divided into 12 Halls, some with multiple floors with each Hall generally containing a single category of toy or product. For instance, dolls and wooden toys have their own Halls. This makes seeing items that interest you easier – you don't have to cover the entire Messe when your interests are narrow.
For the 70th year anniversary, a reception was held with live music and a fine selection of German food and drink. The festivities were held in the brand new Hall 3C. This was actually a very good substitute for eating at a restaurant in the evening!
No trip to the Nuremberg Toy Fair is complete without spending some time strolling through the pedestrian area of the old city. The weather at this time of year is not very cooperative – it's usually cold and gray and cloudy. But the old city has plenty of spots to duck in to shop, grab a sausage, or a hot coffee and a sweet snack.
Two sites that are always enjoyable, over and over again, are the Kaiserburg Castle and Saint Lorenz Kirche. The castle has plenty of places to stroll and view the city. A tour is available and once is probably enough for that. The St. Lorenz Kirche often has a musical event during Toy Fair and it is worth attending. We also enjoy admiring the church relics and stained glass windows from the inside.